In Your Element
Bigos Management creates stylish and modern residential communities with amenities that will exceed your expectations. With an abundance of luxury community entertainment areas, you will indulge your senses in the pool and by the rooftop fire pit and sundeck.
Kellogg Square is a cat and dog friendly community. Each apartment has a two pet maximum. Cats and dogs must be spayed or neutered and shots up to date. Vet records may be requested.
Resident Pet Fees
1 Cat = $200 deposit + $100 non-refundable fee, pet rent $15/month
2 Cats = $200 deposit + $200 non-refundable fee, pet rent $30/month
1 Dog = $200 deposit + $200 non-refundable fee, pet rent $40/month
2 Dogs = $200 deposit + $400 non-refundable fee, pet rent $80/month
1 Cat & 1 Dog = $200 deposit + $300 non-refundable fee, pet rent $55/month
Other small and caged animals allowed, please call for details.
*Breed restrictions (mixed breed or full) include Akita, Belgian Sheepdog, Belgian Tervuren, Bouvier Tervuren, Bouvier Des Flandres, Belgian Malinois, Cane Corso, Chow Chow, Dalmatian, Doberman Pinscher, German Shepherd, Giant Schnauzer, Irish Water Spaniel, Komondor, Pit Bull (or variation including or aka American Pit Bull Terrier, American Staffordshire Terrier, Staffordshire Bull Terrier), Presa Canario, Rottweiler. We reserve the right to refuse any dog based on temperament, behavior, or appearance, regardless of breed.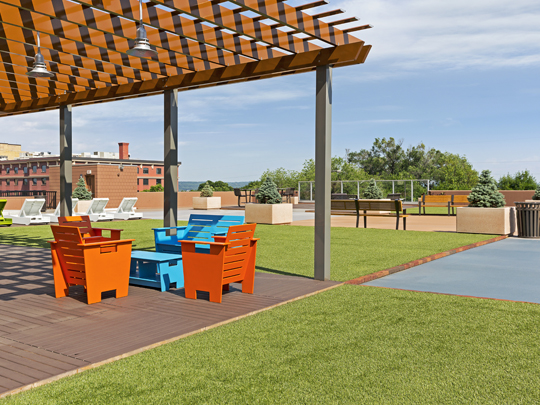 Rooftop Views
Whether you are in your apartment looking out or on the rooftop taking in the scenery, you will see all of downtown St. Paul and the Mississippi.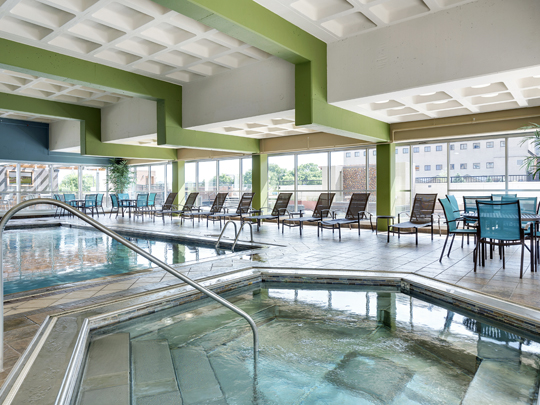 Breathe Easy
It feels good to come home to an indoor pool, whirlpool, sauna, and community lounge area.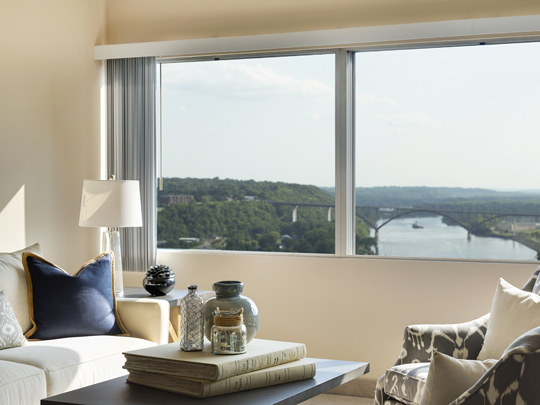 Bigos Level Service
Accommodate your visitors with guest suites for them to stay in. Residents will enjoy guest services and a complimentary parking card in our Kellogg Square parking ramp.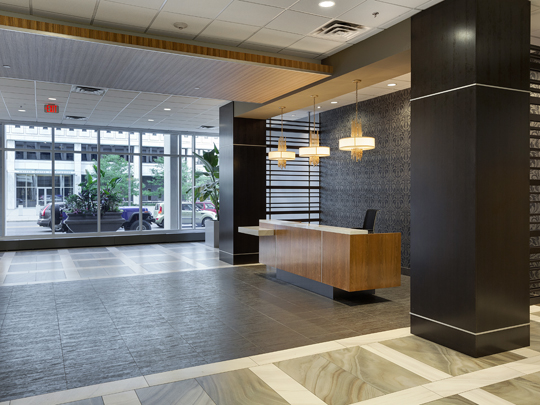 A Vital Community
Feel at ease with friendly staff, 24/7 building services, courteous concierge and 24-hour emergency maintenance.
Dedicated Parking
Residents and their guests enjoy dedicated parking spots, in our attached Kellogg Square parking ramp.

"I LOVE living at Kellogg Square! It is like being on vacation and living in a luxury hotel"
-Tami A.
Community Amenities
Rooftop Sundeck
Laundry Facilities
Controlled Access
Business Center
Smoke-Free Community
Vending Machines
Movie Theater Room
Guest Suites
Package Room
Sauna
Near Biking/Walking Trails
Outdoor Fire Pit
Dog Washing Station
Game Room
Underground Parking
Hot Tub
Near Public Transportation
Grills/Picnic Area
Concierge
Movie Theater Room
Tanning Room
Fitness Center
24-Hour Emergency Maintenance
Indoor Pool and Whirlpool
Billiards Room
Bike Storage
Coffee Bar
Rooftop Community Room
Work/Study Rooms
Conference Room
Pay Rent Online with No Convenience Fee*


I have absolutely loved Kellogg Square since we moved in. The staff has been exceptional, the amenities are top notch, and it feels like home even with how many residents there are.

- Aaron L.